Our Used Cars Pricing Philosophy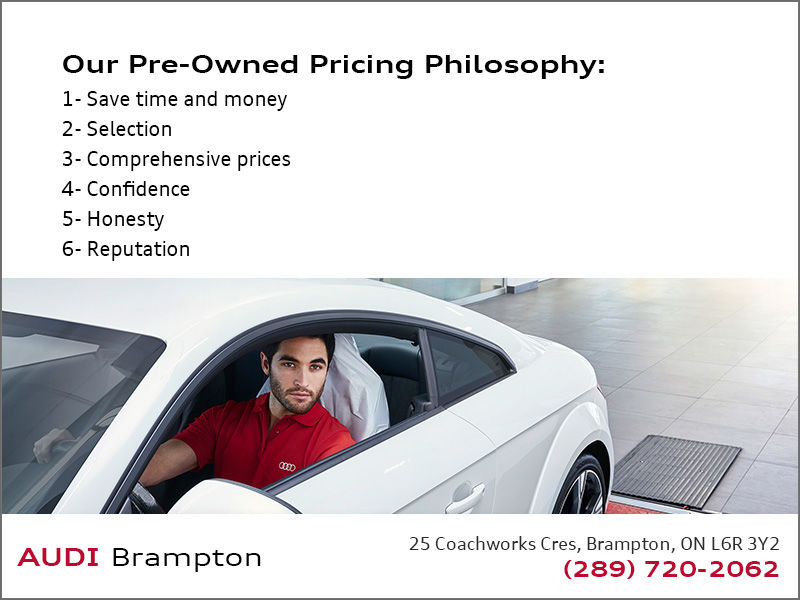 At Audi Brampton, we're all about giving you the best possible value. And thanks to our Live Market Pricing program, you're sure to find the best prices for the best vehicles in the region.
Our Live Market Pricing philosophy ensures you the following benefits:
Save time and money
Ask your Audi brand specialist to provide you with a "Live Market View" for the vehicle that interests you.
Selection
We adhere to a strict selection process so that only the finest, cleanest automobiles with well-documented service histories make our final cut.
Comprehensive prices
We poll thousands of used websites to bring our interest pricing down to the local level.
Confidence
We believe in transparency. Attached to every vehicle offered for sale is a Vehicle Information Packet, which includes the full details about the vehicle and its history so that you can be sure you're making an informed purchase.
Honesty
We will guide you through your car buying experience and listen carefully to your automotive needs.
Above all else, our goal is to find the right car for you. To learn more about our Live Market Pricing, or to get started on your Audi journey today, contact us now!
Take advantage of this offer now!
* Indicates a required field